Introduction
We all know about the increased reliance of our own organisations on our IT applications. The loss of e-mail or a vital call centre application for even a few hours can cause something approaching blind panic! IT managers are under constant pressure to deliver everhigher levels of application service. It is not uncommon for the business to demand availability of key applications on a 24/7/365 basis, without thought of the practicality of business continuity and of taking necessary back-ups. In addition to providing a service for internal customers, IT managers have to provide service for end-customers and external trading partners, who are increasingly dependent upon our application services.
Application architectures continue to increase in complexity and interdependence. In many cases some or all of an organisation's services are outsourced to a third party, which further complicates the IT service management requirements. In an increasingly security-conscious and regulatory environment, the modern organisation must take very seriously their approach to managing and delivering an IT service. IT Service Management (ITSM) is a function which needs a structured approach. The IT Infrastructure Library (ITIL) is a well-documented approach to which many organisations have turned, for improving quality of IT service support and delivery. In addition to managing the every-day delivery of IT services, new developments and changes to existing applications will be necessary. Most organisations will initiate a project to address business change. PRINCE2 has become the accepted standard for managing projects, particularly in the UK.
These two 'heavyweights', ITIL and PRINCE2, are often criticised for being over-bureaucratic. This concern continues to raise interest in 'Agile' approaches. Such approaches advocate incremental delivery of change, focus on delivery of 'something that works' in a fixed timescale and insist on continuous user involvement with the change. DSDM is a well-established and well-documented Agile framework for business-centred development which has significant adoption world-wide, particularly in the UK and Europe. It brings prioritisation in line with business need, to achieve the project objective within a defined timescale and budget.
IT service management is well defined by ITIL; project management is admirably covered by PRINCE2 for control, with an overlay of DSDM to achieve focus and timely delivery. Where the problems arise is in the disjunction between the control of projects and the delivery of service. Projects are frequently run without reference to the IT service management function; service management disciplines exist within the organisation but are ignored by project managers. This article looks at bringing together the benefits of PRINCE2, DSDM and ITIL to ensure that successful projects can be run within the framework of IT service management and can hand over smoothly into live running.
What are PRINCE2, DSDM and ITIL

PRINCE2 (Projects in Controlled Environments) is a widely-accepted standard for project management, particularly in the United Kingdom. It is owned by the Office of Government Commerce and is free to use. It is a well-documented method and can be used for IT and non-IT projects. Compliance with ISO 9000 standards can be achieved using PRINCE2.
DSDM (Dynamic Systems Development Method) is a framework for user-centred business development that can be used for both IT and non-IT projects. It was developed and is owned by the DSDM Consortium membership. Prior to 2006, it was restricted to 'members only' use, but is now free to use by all. It is an 'Agile' project framework, which means that it focuses on user involvement and an iterative approach to development. It is well-documented, with guidance on process and team dynamics, communication and prioritisation to achieve on-time and on-budget delivery of a product to satisfy a business objective. Compliance with ISO 9000 standards can be achieved using DSDM.
ITIL (the IT Infrastructure Library) is a widely accepted, 'best practice' approach to IT service management. Its focus is directly on the provision of support and delivery of IT services. It provides a cohesive set of best practice, drawn from the public and private sectors internationally. The best practice processes promoted in ITIL are supported by the British Standards Institution's standard for IT service management (BS15000) and International Standards Organisation standard ISO 20000.

All three approaches have well-documented manuals of procedure and guidance. They also are supported by rigorous accreditation and examination processes. All have accredited training organisations that can prepare delegates for qualifications.
Using ITIL, PRINCE2 and DSDM together
Let us consider a scenario which follows the life-cycle of an IT application, from its initial development (or purchase and deployment) and see how this is impacted by PRINCE2, DSDM and ITIL.
The key disciplines of ITIL, PRINCE2 and DSDM, and where these overlap, can be seen in the diagram in Figure 1.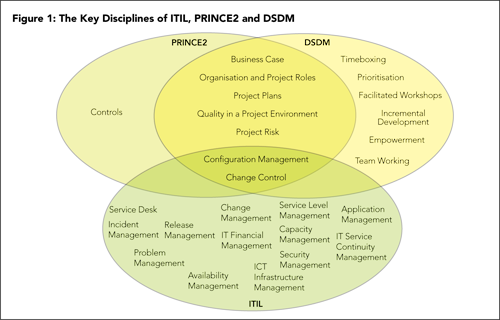 A project is initiated to create an application – let us assume this is a new Management Information System (MIS) system. The project is to be run under PRINCE2, supported by DSDM, and so a project mandate is raised, budget is allocated and an executive (budget holder) is nominated. The project objective and approach are established, a business case and plans are compiled and the appropriate team (users, suppliers, management) is brought together as a temporary organisation to exist while the project is in progress.
In most organisations, other IT applications will already exist. Let us assume that this is the case and that ITIL is in place to manage the delivery and support of service for these applications. The ITIL service management disciplines can be seen in Figure 2.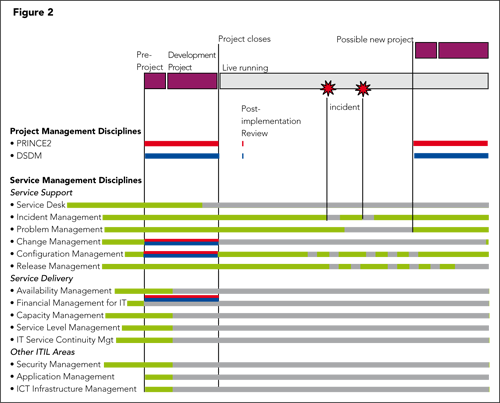 The practice in many organisations is that the project would run in its own carefullycreated environment, virtually oblivious of the service management function carrying out its daily activities elsewhere in the organisation. When completed, the project deliverable (the completed MIS application) would be 'thrown over the wall' to the service management teams for them to manage. At best, service management would have been invited into the project at a very late stage, to negotiate the hand-over of the application into live running and to enable training of service support staff. If you do not recognise this scenario – if your organisation actively includes service management disciplines into projects from the early stages of every project – then please skip to the end of the article.
Many of you still seem to be with me, so let's continue!
It can be seen from figure 2 that the service management disciplines are already in place, supporting existing applications, as indicated by the green bars. The ideal level of involvement in this project is shown in grey.
From figure 2 you can also see that involvement is recommended throughout the project, particularly for service delivery.
We will consider in more detail just a few indicative disciplines below:
Availability management is concerned with ensuring that stated business requirements for application availability are consistently met. The business requirements for the developing application are typically established early in the project. Without any input from the availability management, such 'non-functional' requirements may be unrealistic or may be overlooked completely. If overlooked, there is an element of work to be done to implement these requirements when they are discovered which will not have been accounted for in the project plans, causing delay to implementation and extra cost.
IT service continuity management is about providing an 'agreed level of IT service… to support minimum business requirements following an interruption of business'. This will also include the provision, testing and implementation of back-up facilities. If this discipline is not considered early in the project, the understanding of the 'minimum business requirements' may be unclear. DSDM would cause prioritisation of business requirements early in the project, with continual review of this during the project. However, the involvement of IT service continuity management will give a new perspective and further clarity to defining a requirement as 'must have', 'should have', 'could have' or 'won't have' and will ensure that this prioritisation is consistently used when the application becomes 'live'. The involvement of the ITIL discipline will also ensure that the project takes account of the additional work needed to set up backup and recovery procedures.
Change often results in the need for new hardware, new versions of software and/or new documentation, created inhouse or bought-in. These need to be controlled and distributed as part of a packaged 'release'. Release management, to quote the ITIL manual, "undertakes the planning, design, build, configuration and testing of hardware and software to create a set of release components for the live environment." There is clearly an overlap of responsibilities here with those of the PRINCE2 or DSDM project manager of any application development. It is insufficient to involve the release manager at the end of a project, just before a release is needed.
Additionally, DSDM takes a regular, incremental approach to delivery, in order to gain business benefit early. In such a case, to avoid loss of control, release management may need to be involved continuously with a project.
Change management and configuration management are disciplines on which PRINCE2, DSDM and ITIL all offer guidance. The good news is that all three approaches have developed over the years in line with each other and their advice does not conflict. Indeed, between PRINCE2 and ITIL some evidence of 'cut and paste' can be perceived (not surprising as both are owned by the OGC). However, the practicalities are that the approaches do allow some flexibility of implementation and it is crucial to success that the ease of handover from project to live environments is considered.
Key Benefits of PRINCE2

Well-documented project management method;
Strong framework for the governance and management of projects;
Clearly-defined management roles;
Allows 'management by exception', having a clear escalation and issue handling process;
Business-focused;
User-centred;
Product-based;
Controlled and organised start, middle and end to projects;
Already well established in many public and private sector organisations.

Key Benefits of DSDM

Well-documented Agile approach;
On time, on budget delivery;
Business-objective focused;
Promotes early and continuous delivery of product, in business-valuable increments throughout the project;
Continuous active user involvement at both management and team level, with guidance on making this effective;
Clearly-defined management and team roles;
Guidance on small, self-directing teams;
Techniques for communication, project control and team working;
Already well established in many public and private sector organisations.

Key Benefits of ITIL

Well documented IT service management approach;
Defined disciplines, roles and procedures;
Business-focused;
Delivers improved quality of service and more reliable business support;
Gives greater flexibility to business by better understanding of IT support;
Clearer view of IT current capability;
Already well established in many public and private sector organisations.

In conclusion
PRINCE2, ITIL and DSDM are all mature, well-established approaches to managing different aspects of providing the IT service. They are widely used by companies large and small and have accreditations and qualifications to ensure professionalism in their use. However, alone they are not sufficient for the end-to-end management of the IT service. Used in isolation from each other, they will not deliver their full benefits.
To gain the full control and benefit of the best practices which they all embody, they should be operated together. This will avoid confusion and unnecessary rework and lead to a coherent, controlled management of the organisation's IT service.