The scene was set in the auditorium in the Center for Innovative Technology in Washington DC. As a part of the Agile 2015 conference, and organised by local Agile Coaching and training company Lithespeed, an exclusive one day forum for Executives and Leaders was about to begin. The event was a complete sell-out, as people took their seats.
It began with an introduction by its host, Sanjiv Augustine, CEO of Lithespeed, who set the agenda for the day.
First up was Mark Schwarts, CIO, US Citiizenship and Immigration services, who described the lean bureaucracy, and told us how adjusting batch size fixed federal government IT, and how to deal with "Mr Investment-man", who thinks he needs a long term plan and a big programme for everything.
Randy Salley, SVP of Application Development, gave the Wal-Mart story of Agile adoption, including telling us about the "Wal-Mart cheer" with which employees start every meeting, and informing us that Wal-Mart's operation includes the distribution of some 5 billion bananas a year in 28 countries. That's a lot of bananas!
Chris Cate, CIO, Cox Target Media explained Valpak's Agile journey, and how they fundamentally changed Valpak's working practices.
Then came the showdown that everyone had been waiting for. A panel event, moderated by Dot Tudor, Chief Agile Coach from UK-based coaching and training company, TCC, along with four of the biggest names in the Scaling Agile Arena.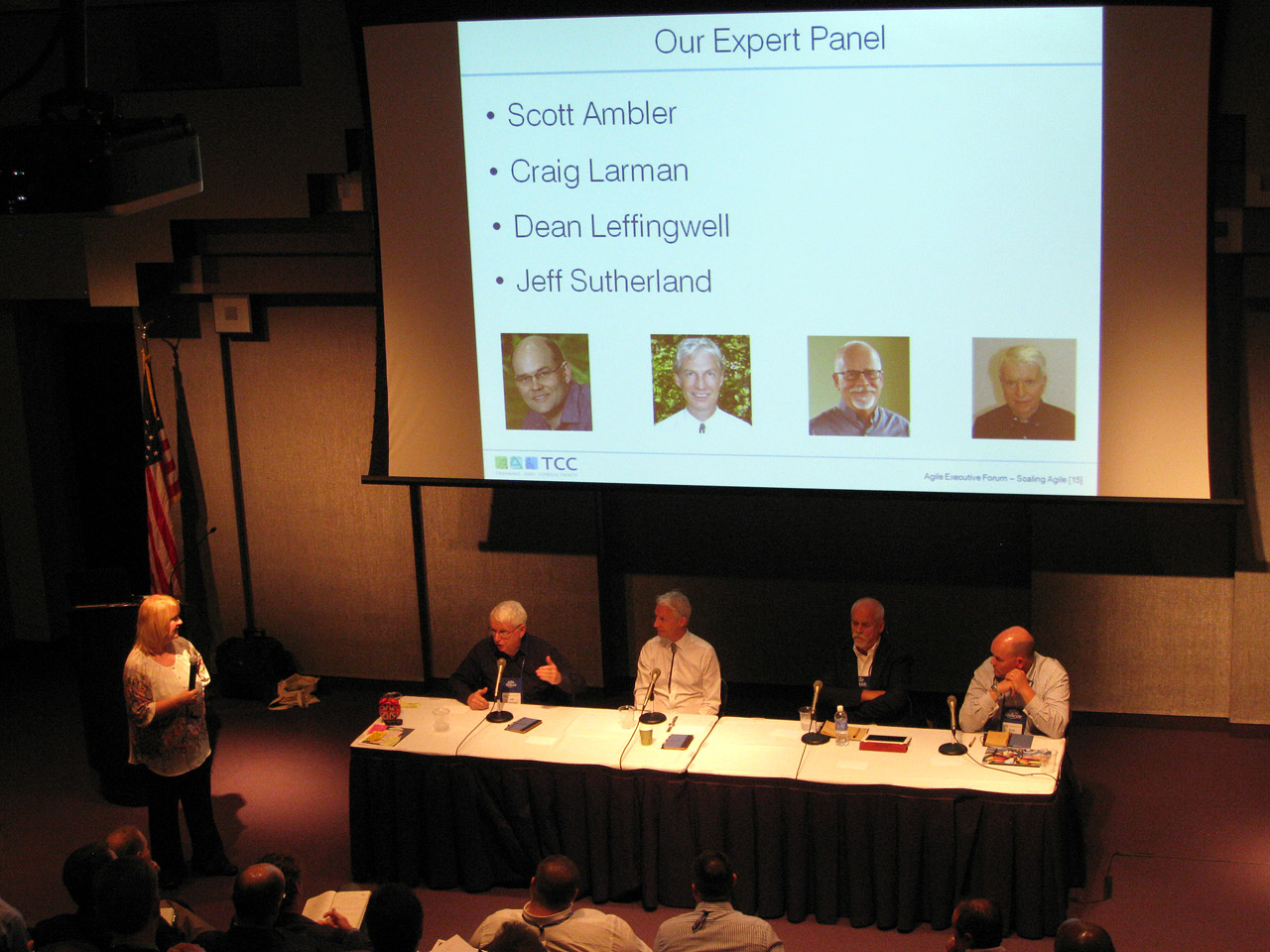 Scott Ambler, with Disciplined Agile Delivery (DAD); Craig Larman, with Large Scale Agile (LeSS); Dean Leffingwell, with his Scaled Agile Approach (SAFe); and Jeff Sutherland, founder of Scrum, with his modular approach to scaling Scrum.
These four do, of course, know each other of old, but here were meeting for the first time as an Expert Panel to answer audience questions on the progress of scaling agile and to give insight into their individual approaches and frameworks.
The microphones were standing proudly on the white tablecloth at the front of the packed auditorium as the protagonists arrived.
Their first move was to all shake hands and begin chatting. As Dot quietly called them to order, Dean announced, tongue in cheek, that they were just addressing whether they should join forces.
Each speaker was allocated 90 seconds – yes, seconds – to introduce their framework, against just one slide and, with a touch of British magic, this stayed on time and delivered the right value. Then audience questions followed.
"How is your approach different? How do we measure performance? What is the sweet spot for your approach? What proportion of the market does your approach hold? What are the major challenges for this approach?"
Each panelist had an opportunity to give their perspective, and the questioner a chance to respond.
After a good-natured exchange and many pearls of wisdom being imparted to an eager audience, there was one final twist where the panelists were given the opportunity to ask the audience a question, or leave a thought with them before concluding.
Discussions were then continued over lunch, and at the Open Space session which followed.
After an enjoyable break, an interesting Open Space session moderated by Arlen Bankston of Lithespeed, assisted by Dot Tudor, Nicole Forsgren Director of Organisation Performance and Analytics at Chef, showed some of the statistics related to DevOps and the improvements it can yield.
Michael Gioja SVP Information Technology of Paychex gave us an insight into the progress of the Agile transformation there, including the challenges they have had and how these have been handled.
Gill Haus,VP Digital Innovation Capital One, brought the day together by telling the leaders some of the reasons why Agile fails and explaining how it's all their fault! His good humoured talk, however, had everyone laughing and engaging with the reasons why we make wrong choices and challenged us all to change our ways.
Linda Cook of the Agile Alliance summed up the day beautifully, thanking everyone for their part in the success of the largest such forum ever run in conjunction with the Agile Alliance.
The feedback received both verbally during, and following the event, was excellent, with everyone agreeing about the value of the day, many having especially enjoyed the panel session. Lots of good ideas were gleaned from the experience reports, and the whole event had a very friendly, happy and productive atmosphere. Pretty much everyone at the Meet and Greet Reception afterwards confirmed that they were already scheduling next year's event in their diaries!
Well done to Lithespeed, and all the speakers, panelists, moderators and volunteers; thanks to the sponsors, Lithespeed, Agile Transformation, Scaled Agile, CA-Rally, Electric Cloud, Applied Frameworks, ICAgile, Tasktop, Version One and Booz Allen Hamilton; and thanks to the Agile Alliance for making this event possible.
See you next year in Atlanta!