RESOURCES
What is Business Analysis?
Business Analysis is a disciplined, collaborative approach to analysing an organisation's internal and external environments, in order to help the business take advantage of opportunities and address weaknesses.
Why is Business Analysis needed?
All organisations have a reason for being in existence (a Mission) and have to devise ways (Objectives and Strategies) to best achieve that Mission. The Business Analyst role has the specialist skills to achieve this, analysing the strengths and weaknesses of the organisation in relation to its environment and competition, formulating options for change (Tactics) and facilitating the implementation of that change.
Technology has been a major driver in the growth of the business analysis profession over the past few decades. The opportunities for technology to support and create new products and services are growing exponentially. The Internet has enabled global communication, sharing of software and storage, and increased mobility of individuals and teams. The increasing availability of off-the-shelf software has also made the need for clear requirements specification even more acute as businesses are required to identify whether existing solutions are a good fit for their unique requirements. The growth of Agile development, with its incremental deliveries, short feedback cycles and a changing relationship with users of the software, is also a factor in the changing role of the Business Analyst.
What does a Business Analyst do?
The Business Analyst is a skilled professional whose focus is to understand the organisation and its external marketplace and influences, and to recommend change. They will then assist with the implementation of that change, to enable the organisation to better achieve its strategy and meet its objectives. They will also drive the assessment of success by measuring the benefits which have accrued after a change has been implemented.
The skills of the Business Analyst to analyse the business and its environment and market include: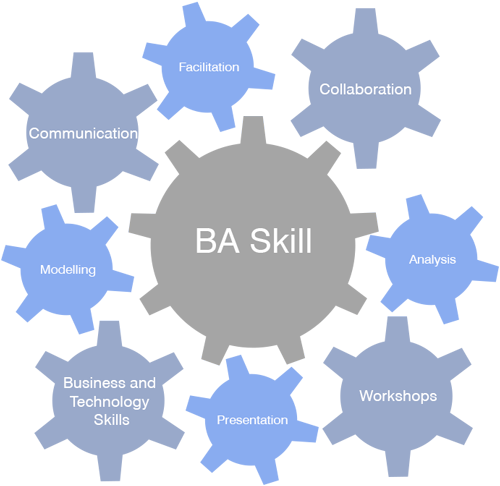 As well as identifying options for change, the Business Analyst will communicate the rationale for change with reference to business needs and objectives, in collaboration with both business and technical stakeholders. They must work with others in the business, both solution consumers and providers, and understand enough of the language and issues of both worlds to bring them together in common understanding.
When looking externally, the Business Analyst examines the environment of an organisation, identifying suppliers, buyers and customers, competitors, regulatory bodies and many more in order to help deliver solutions that will offer the best competitive advantage to the organisation. The internal analysis of an organisation includes identifying, modelling and analysing business processes, working with stakeholders and users of business systems in order to identify areas for improvement and determine how those improvements can be delivered.
Where and how does a Business Analyst work?
Business Analysts work at many different levels in an organisation. Some Business Analysts work at the corporate level and may be involved in everything from defining strategy, to creating the enterprise architecture, to taking a leadership role by defining the goals and requirements for programmes and projects or supporting continuous improvement in technology and processes. While doing so they may produce business process models, facilitate communication between different parties and run facilitated workshops.
The majority of Business Analysts will work within organisational change projects or in the continual improvement of products and services on a day-to-day basis. They will be involved in implementing the change required to fulfil strategy. As a part of this role, they will interpret and create business process models, work with stakeholders to write user requirements and user stories, facilitate communication between different disciplines throughout the evolution of solutions, and drive the assessment of benefits which accrue from change.
The value of business analysis is in the realisation of benefits, reduction in cost and risk, identification of new opportunities and a deeper understanding of the capabilities and future of the organisation.