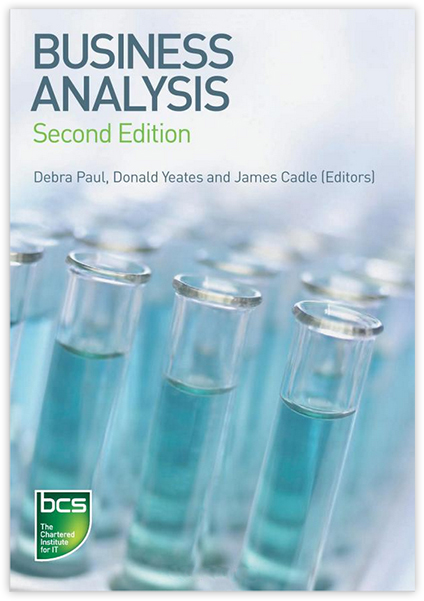 TCC is pleased to announce the continued success of the BCS Business Analysis book, which recently passed the sales milestone of 25,000 copies.
The book was authored by a team of experts, consisting of practitioners and educators in the business analysis field.
With over 30 years of industry experience, coupled with an excellent reputation, TCC was approached by the BCS, The Chartered Institute for IT, to co-author the BCS Business Analysis book.
Now in its second edition, it has received wide acclaim from the business analysis community.
Aimed at business analysts of all levels, the book provides practical guidance on how to approach business analysis and a detailed explanation of the key techniques. It also acts as a supporting text for those looking to gain business analysis certification.
A valuable learning resource for aspiring business analysts, it is an ideal companion for those studying for the BCS Business Analysis Diploma.
Business analysis is a relatively new discipline, which offers many benefits to organisations; ensuring that implemented business change solutions are in line with business needs.
The book provides guidance that reflects the extent of the business analysis role and the variety of techniques involved. It teaches strategy analysis and covers a range of topics, including:
modelling business systems and processes
business case development
change management
engineering / information resource management.
The first edition of the book was published in 2006 to support the ISEB Business Analysis qualifications, and with the subsequent industry changes there was a clear demand for a new edition.
The second edition expands on various techniques and includes some important enhancements to areas such as:
Ishikawa diagrams and spaghetti maps
requirements management
investigation of business needs
benefits realisation (including benefits realisation maps).
TCC's Technical Director and co-author of the BCS Business Analysis book, Dot Tudor, comments: "The BCS Business Analysis Diploma has been instrumental in setting the standard of best-practice for business analysts in the UK and internationally. Now in its second edition, and having sold over 25,000 copies, the success of this book illustrates the level of interest in business analysis and the importance of this discipline in the corporate world."
TCC provides training and consultancy for business analysts internationally, including a range of courses leading to the BCS Diploma in Business Analysis.
Highly experienced and practising business analysts conduct TCC business analysis courses, which sets them apart from many competitors.
With regular courses in major UK cities, and on-site training programmes designed for organisations throughout the world, TCC continues to strengthen its reputation as the leading expert in the field of business analysis.
For more information about the BCS Business Analysis Second Edition book, or the BCS Business Analysis Diploma, contact TCC by telephone on +44 (0)1477 500 011, or visit www.tcc-net.com.