How would it help to have TCC on your team?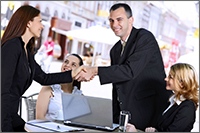 At TCC, we understand the link between people, processes, technology and organisational structure. So, when you are looking to implement that important business change project or reviewing your current use of IT, you can be assured that the advice and support you will receive is based upon best practice, industry knowledge and experience.
All of our consultants have many years of practical experience of projects and of using IT to support business. We can bring in-depth industry understanding, world class capabilities, innovation and cutting-edge ideas to your business to help raise performance levels and deliver real business benefit.
Some of the wide range of consultancy assignments which we have undertaken alongside our customers are:
Facilitation of business workshops;
Project mentoring, coaching and support;
Systems development lifecycle skills transfer;
Business process modelling and improvement;
Standards for best practice;
'Health checks' to assess effectiveness.
Why Choose TCC Consultants?
All TCC consultants are experienced in their fields, Many are also practising trainers (which we believe gives them a particularly in-depth knowledge of the subject).
All of our consultants have been out and done the job first-hand, rather than simply relying on theoretical knowledge.
TCC consultants work together where appropriate. If a specific consultant has industry or task specific knowledge, he or she can be brought in to participate in that task. When you take on a TCC consultant, you not only benefit from the knowledge of that consultant, but the knowledge of all TCC consultants.
TCC operate an efficient-consultancy policy. Consultants can be available to offer as little or as much support as required. And if we think that fewer on-site visits are sufficient to offer the desired benefits then we will offer this option. We would much prefer that an organisation develops the skills in house to allow them to go-solo as soon as is reasonable, than for them to have to keep our consultant(s) on permanently!
TCC offer both training and consultancy, and this places us in an ideal position to offer a consultancy package supported with effective and appropriate training. This is key in enabling an organisation's own staff to become self-sufficient in an activity or method.
Whatever your requirements, please give us a call on +44 (0)1477 500 011. You will be introduced to the appropriate specialist and they will be happy to discuss the kind of support you need to best meet your objectives.