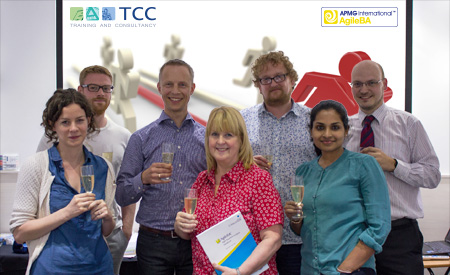 The world's first APMG Agile Business Analysis training course (AgileBA) was delivered this week, by Agile training and consultancy specialist TCC. Delegates from across the UK and overseas gathered, at a prestigious venue in London, for the opportunity to become one of the first Business Analysts to be awarded the new APMG Agile Business Analysis certification - launched less than a week earlier in June 2015.
Based on the same foundations as the APMG Agile Project Management (AgilePM) qualification scheme introduced in late 2010, this is set to become a highly sought after certification.
The first ever AgileBA course, which ran on the 8th - 10th July 2015, was led by one of TCC's most experienced trainers and Agile coaches, Dot Tudor. Dot is lead author of the AgileBA Handbook and the AgileBA Chief Examiner for global accreditation and certification body, APMG International.
As a pioneer in Agile, TCC was in an ideal position to create and introduce the first Agile Business Analysis training course back in 2008. It is the guidance and practices for business analysts taught within this course that now underpin the Agile Business Analysis Handbook, published by the DSDM Consortium. Expert contributors and reviewers from all over the world have helped to turn this into the official AgileBA Handbook.
We would like to say a big thank you to those early adopters who joined us on the 8th - 10th July 2015 for this landmark event, and congratulations on being the first candidates through this exciting new qualification! Just as when TCC ran the first ever APMG Agile Project Management course, delegates celebrated the completion of the course with a glass of champagne!
Join us for the next Agile Business Analysis (AgileBA) training course
So don't wait around; the AgileBA course is available to book online at www.tcc-net.com, with regular public courses running throughout the UK. The next three dates are:
Birmingham on 26 August 2015
London on 23 September 2015
Manchester on 04 November 2015
Find out more and secure your place today!