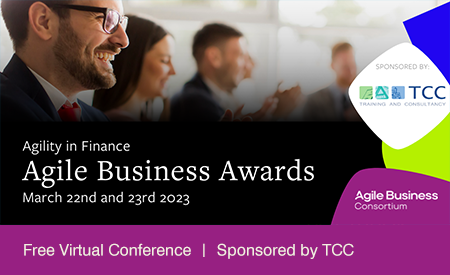 TCC will be sponsoring the Agility in Finance award at this year's Agile Business Awards.
The Agility in Finance award recognises those using agile and lean principles and practices across contracting, procurement and finance and recognises organisations that have introduced approaches that sustain the governance of financial reporting and control, whilst allowing space for innovation in a climate of change and uncertainty.
The Agile Business Awards 2023 are organised by the Agile Business Consortium, a global organisation that promotes business agility worldwide. The Awards recognise and celebrate organisations and individuals who have achieved outstanding results by adopting Agile in their business practices. The awards aim to showcase the success stories of Agile adoption and inspire others to embrace Agile principles and practices to drive innovation and growth in their organisations. Covering a range of categories such as Agility in Marketing, Agility in HR, Agility in Finance and Overall Business Agility, the achievements of organisations and individuals across different industries and sectors will be recognised. The awards will be judged based on the five elements of the Framework for Business Agility which demonstrate an organisation is truly agile through leadership, strategy, governance, people and culture.
The combined Agile Business Awards Conference is an opportunity to celebrate how far the community has come and share and reflect on learnings with others. This live event is available to everyone to attend and will consist of 20-minute stories from selected organisations showcasing their experiences with Agile as well as offering their time for questions. Panel discussions with thought leaders have also been arranged to complete the agenda. The full agenda can be viewed at: https://www.agilebusiness.org/agile-business-awards-2023/agenda.html.
Attend the Agile Business Awards 2023 - Virtual Conference
When: Wednesday 22nd March 13:00-18:00 UTC | Thursday 23rd March 08:00-13:30 UTC
Where: Virtual Conference
Cost: Free
Register to attend the Agile Business Awards 2023
For those unable to attend, a recording will be made available to Professional and Associate members of the Agile Business Consortium.