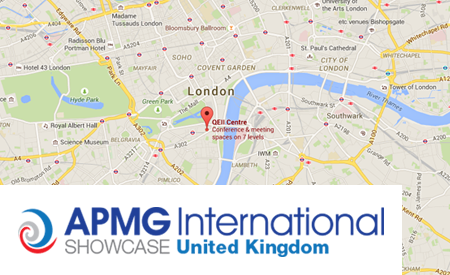 When: Friday 19 June 2015
Where: Queen Elizabeth II Conference Centre, Broad Sanctuary, Westminster, London, SW1P 3EE
Free to attend
APMG International Showcase is a free event organised by APMG - one of the leading examination institutes for professionals internationally. The Showcase is a unique event for knowledge sharing and networking. Aimed at managers from all industries and sectors, from blue chip companies to SMEs, the event offers an extensive programme of presentations and interactive round table sessions bringing together the leading thinkers behind methodologies such as AgilePM, AgileBA, Change Management and PRINCE2, to name but a few.
The full programme runs from 09:00 - 17:00, with round table sessions held throughout the day.
One of the hottest topics in Agile right now is how the role of the Business Analyst changes within an Agile environment. Dot Tudor of TCC will be hosting a round table session on "How to become a Certified Agile Business Analyst" at the 13th APMG International Showcase on the 19th June 2015.
Register to attend APMG International Showcase
How to become a Certified Agile Business Analyst
Session time slot
Timeslot 1 | Friday 19 June | 10:15 - 11:00
Timeslot 2 | Friday 19 June | 11:40 - 12:25
Synopsis
The role and skills of the Business Analyst in the Agile world have become more and more appreciated in recent years. The Agile BA needs to be able to recognise problems, to spot their real causes and enable solutions that are effective and long-lasting. They also need to work in a fast-paced, incremental and collaborative way within an Agile team. Come along to explore:
How the Business Analyst works in an Agile world.
How they can use their skills to improve the whole Agile process, from portfolio through to programmes and projects.
What additional skills an Agile Business Analyst can bring to Agile projects.
What new Certification will soon be available to underpin the profession of Agile Business Analysis.
Target Audience
Analyst
Change Manager
Corporate Change Director
IT project / programme managers and directors
Lead Project Manager
Process owners
Programme Office Manager
Project Co-ordinator
Project Manager
Project Support Officer
Senior support analysts
Biography - Dot Tudor Agile Coach, TCC Ltd.
Dot is a founder and Technical Director of TCC (www.tcc-net.com), a company specialising in improving the way organisations manage projects and achieve successful business change. She is an experienced Agile coach who enjoys helping organisations improve their ways of working. She has been involved with Agile approaches since they first began to emerge in the early 1990s, working with the Agile Alliance, Agile Leadership Network and DSDM Consortium. She is a co-founder of the BCS International Diploma in Business Analysis, which has pioneered best practice in the business analysis profession for many years. Dot works across all industry sectors, with a wide range of customers from small companies to multinational organisations. She is a recognised international conference speaker and a published author. She is a Fellow of the British Computer Society and a Chartered IT Professional, as well as a Certified Scrum Professional, DSDM Advanced Practitioner and Certified SAFe Program Consultant.