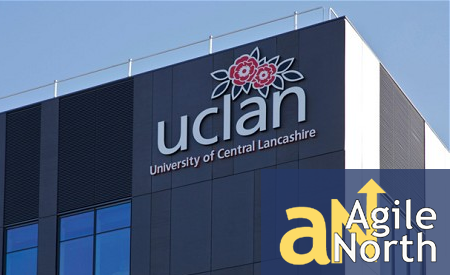 When: Thursday 25 June 2015
Where: The Media Factory, University of Central Lancashire (UCLan), Kirkham Street, Preston, PR1 7HD
Delegate rate £120 per person - includes refreshments and lunch
Now in its 10th year, AgileNorth provides a forum to explore Agile Software Development approaches, with the opportunity for networking to share and gain knowledge. The one day conference will take place at the Media Innovation Centre within the Media Factory at UCLan, with a number of high profile speakers on the programme. The event runs from 08:45 - 17:45, with a Q&A session and sponsored bar scheduled for the final half hour to close the conference.
One of the hottest topics in Agile right now is how the role of the Business Analyst changes within an Agile environment. Dot Tudor, of TCC, will be presenting a session at 11:45 on the AgileBA: "I'm an Alien... a Business Analyst in an Agile world!".
Register to attend AgileNorth 2015
I'm an Alien... a Business Analyst in an Agile world!
Session time slot
Thursday 25 June | 11:45 - 12:45
Synopsis
Are you confused about your role as a Business Analyst in a world where Product Owners seem to have all bases covered? If so, come along to this interactive presentation and find your answers. As Agile matures, it is clear that the Agile BA has a significant role to play.
You will learn:
What responsibilities other Agile roles believe are theirs and not yours.
How you fit in with the whole Agile process, from portfolio through programme to project.
What additional skills you need as an Agile Business Analyst.
Comments from real people in Agile teams
"I'm an Alien... I'm a Business Analyst in an Agile world!"
"As a Business Analyst, I have the skills to analyse processes and value chains, to see the strategic need for change and to guide the organisation from present to future ways of working. But the Agile teams undervalue my skills. I am expected just to produce requirements instantly. I don't have the time to do my job in Agile."
"I am a Business Analyst but I am expected to be a proxy for the business Product Owner; I have neither the perspective nor the buy-in from the business to do this. I feel like an Alien in the Agile project. Do I even have a role in Agile?"
"I'm a Developer. Why do we need business analysts? I can just talk to the business and find out what they want. I'm not even sure what these Business Analysts do!"
"I'm a Product Owner. I am being expected to analyse and represent my business area in projects, in ways I have no real skills for. Nor do I have the time to develop these skills – I have a product to sell."
These are the comments of real people in Agile teams. Sound familiar? If so, come along to this presentation and find the answers. As Agile matures and learns from experience, it is clear that the Agile BA has a significant role to play.
Biography - Dot Tudor, TCC Ltd.
Dot is an experienced Agile coach who enjoys helping organisations improve their ways of working. She has been involved with Agile approaches since they first began to emerge in the early 1990s, working with the Agile Alliance, Agile Leadership Network and DSDM Consortium. She is one of the founders of the BCS International Diploma in Business Analysis, which has pioneered best practice in the business analysis profession for many years. Her company, TCC, is a leading organisation in training and coaching in Agile. Dot works across all industry sectors, with a wide range of customers from small companies to multinational organisations. She is a recognised conference speaker both nationally and internationally and a published author. She is a Fellow of the British Computer Society and a Chartered IT Professional, as well as a Certified Scrum Professional, DSDM Advanced Practitioner and Certified SAFe Program Consultant.