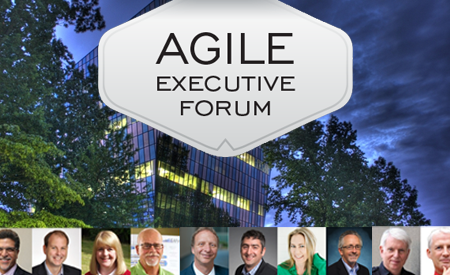 TCC, a leading provider of Agile training and consultancy in the UK and internationally, has been invited to be part of a Scaling Agile Panel discussion at the fifth annual Agile Executive Forum in Washington, D.C. on 3rd August.
The panel will feature some of the biggest names in Agile with moderator Dot Tudor (TCC) lining up alongside Dean Leffingwell (Scaled Agile), Jeff Sutherland (Scrum Inc), Scott Ambler (Scott Ambler + Associates) and Craig Larman (LeSS).
The Agile Executive Forum - held in conjunction with the Agile2015 conference - brings together senior executives to share experiences and best practices on how Agile is being implemented and scaled within an enterprise environment.
It provides an exclusive opportunity to hear from some of the world's top Agile executives and leaders, while exchanging insights and ideas with peers from various backgrounds. Attendees will learn how to improve time-to-market and rapidly deliver sustainable business value, leading to greater competitive advantage and profitability.
Sanjiv Augustine, Executive Forum co-chair said "Our theme is Building the Lean Enterprise, and we're thrilled to have executive speakers who will share their battle stories and leadership journeys with attendees."
The programme comprises presentations and discussions from leaders who are all senior executives responsible for leading successful major transformation efforts that follow Agile principles and practices.
View the 2015 Agile Executive Forum programme
When: Monday 03 August 2015 (8:00am - 5:00pm Eastern)
Where: Center for Innovation Technology, Herndon, Virginia, Washington, D.C. USA.
Cost: $350 (Agile Alliance members) | $500 (non-members)
Attendance at the 2015 Agile Executive Forum is limited to 125 participants.
Registration includes a full one-year Agile Alliance membership.
Register to attend the 2015 Agile Executive Forum
(Exclusive event tailored to executives and senior leaders reporting to executives)