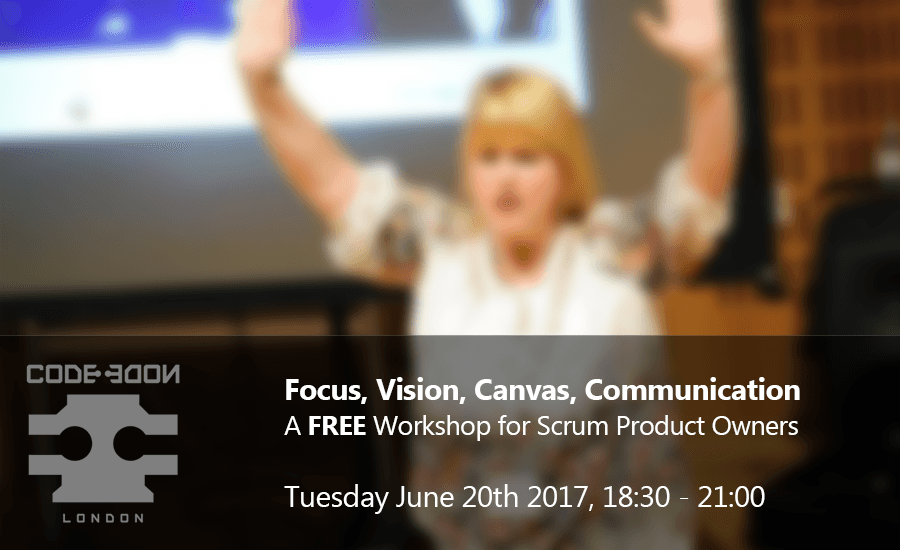 When: Tuesday 20 June 2017 | 18:30 - 21:00
Where: Code Node, 10 South Place, London, EC2M 2RB.
FREE | Sign up to attend
Join us for this interactive evening session, where we will explore a few of the Agile Business Analysis techniques to help the Product Owner.
Presented by Dot Tudor of TCC and Scrum Event*, this event focuses on how business analysis skills are critical in helping organisations to achieve their business goals. The workshop will explore how these skills link business change efforts with the real reasons for the change and the benefits required to justify the expenditure.
The Product Owner's responsibility is to maintain the alignment of development work with organisational vision and direction. Through an understanding of the organisation's needs, they can facilitate appropriate, cost-effective solutions to business problems.
By the end of the evening, you will have explored the Product Vision, created a Lean Canvas and built a Product Box for it all to be delivered in!
*Scrum Event is a Scrum Alliance endorsed Scrum User Group. This event will earn 2 Scrum Alliance SEUs.
Agenda:
18:30 - 19:00: Arrivals
19:00 - 19:10: Introductions
19:10 - 20.00: Workshop begins
20.00 - 21.00: Networking
About Dot Tudor
Dot is founder and Technical Director of TCC, a company specialising in improving the way organisations manage projects and technology and achieve successful business change.
She is a Certified Scrum Trainer, Certified Scrum Product Owner and an experienced Agile Coach. She has coached teams in organisations large and small around the world for many years. She works across all industry sectors with a wide range of customers from small computer games companies to multinational banks, insurance companies and government organisations.
Her skills in Agile were recognised at the UK Agile Awards in both 2011 (Best Agile Coach) & 2015 (Outstanding Contribution to a DSDM Team).
Dot is a co-author of the Agile Project Management Framework, author of the Agile Business Analysis guidance. She is a Fellow of the British Computer Society and a Chartered IT Professional. She is certified in industry best practice for scaled agile, project management, business analysis and service management. Dot's passion is to blend Agility with practicality and to enable the benefits of agility to be achieved within the needs and constraints of a corporate environment.