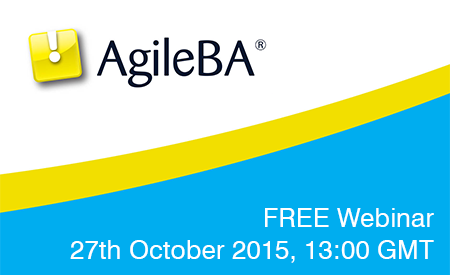 TCC will be presenting a free webinar hosted by APMG International, exploring the vital role of the Agile Business Analyst. The webinar, which takes place on the 27th October at 13:00 GMT, will look at what makes the Business Analyst role critical on an Agile project and the ways in which it differs from that of a Business Analyst on a traditional project.
During the 45 - 60 minute session, Dot Tudor of TCC will also provide an overview of the new AgileBA training and certification programme from APMG International in partnership with the DSDM Consortium. The scheme's syllabus and exams are based on the AgileBA Handbook, written by Dot Tudor and published by the DSDM Consortium.
The number of organisations adopting an Agile approach to their work has been increasing at a dizzying pace over the past five years. Agile, however, is not new: both Scrum and DSDM were created in the early 90s (although Scrum wasn't released into the wild until the early 00s). The ideas underpinning Agile methods stretch back even further in history.
Like most change, however, Agile has taken time to gain traction and widespread support in the business world. As this happens, those in the Agile world have recognised the need for strong guidance on transitioning to an Agile way of working. One such need is in the area of Business Analysis.
The AgileBA Handbook offers the first comprehensive set of guidance, framework and practices for the Business Analyst working on an Agile project.
For more information, or to register for the webinar, please visit the APMG International website where you can also register for your FREE place today.
"The Vital Role of the Agile Business Analyst"
Date / Time: 27th October 2015, 13:00 GMT
Duration: 45 - 60 minutes
Register for your FREE place today