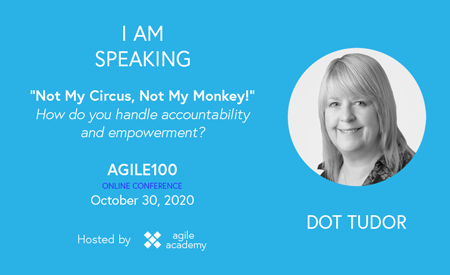 When: Friday 30 October 2020 | 10:45 - 19:00 (Dot Tudor Speaking 17:00 - 17:50) GMT
Where: Online, Using Zoom.
FREE | Sign up to attend
Agile100 Conference
Covid-19 took most of the world by surprise. Suddenly, everything changed. Business as usual - gone... at least for the forseeable future. Without doubt it has been a challenging year, but it has also been a year in which individuals and organisations have overwhelmingly pulled together to navigate these challenges. The Agile100 virtual conference series aims to bring the knowledge and experience of the world's top 100 Agile thinkers and speakers to everyone, across the globe. We are striving to embrace the latest technology to help spread the best ideas, because we believe that people with access to knowledge and information can tackle any challenge and make our world more productive, more humane, and more sustainable.
So why not join us to hear six of the world's top Agile thinkers share their knowledge and experience, with attendees from all over the globe? It's free to attend, just sign up above. TCC's own Dot Tudor will be speaking at 17:00 GMT, with her view on how we can leverage the concepts of Accountability, Responsibility, Empowerment and Freedom to generate a working environment in which our teams are excited and proud to pull together.
Not My Circus, Not My Monkey - Dot Tudor
Dot Tudor of TCC, with inspiration from an old Polish proverb and an uplifting tale of the lights and sounds of the circus, will take us on a journey through concepts such as Accountability, Responsibility, Empowerment and Freedom. We will consider these concepts in the context of Scrum Values, contemplating how they have the power to both devalue or enhance these values. Once we understand this we can better appreciate what it is that differentiates the best and highest performing individuals and teams, so that we can ensure that our own teams are exciting and productive environments in which to do our best work.
"Freedom does not consist of being bounded by no law, but by laws that are, in some sense, of ones own making." - Jean-Jacques Rousseau (Philosopher), 1712 - 1778.
It is my hope that the topics we consider within this talk will help you to make your own "laws"; laws that facilitate Freedom within your team and allow individuals to feel Empowered to play their part...
...all with a little help from Hollywood.
About Dot Tudor
Dot is founder and Technical Director of TCC, a company specialising in improving the way organisations manage projects and technology, and achieve successful business change.
She is a Certified Scrum Trainer, an experienced Agile Coach, and has coached teams in organisations large and small around the world for many years. Dot works across all industry sectors with a wide range of customers from small computer games companies to multinational banks, insurance companies and government organisations. Her skills in Agile were recognised at the UK Agile Awards in both 2011 (Best Agile Coach) & 2015 (Outstanding Contribution to a DSDM Team).
Dot is a co-author of the Agile Project Management Framework and author of the Agile Business Analysis guidance. She is a Fellow of the British Computer Society and a Chartered IT Professional. She is certified in industry best practice for scaled agile, project management, business analysis and service management. Dot's passion is to blend Agility with practicality and to enable the benefits of agility to be achieved within the needs and constraints of a corporate environment.