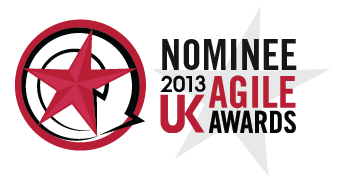 We are delighted to announce that Dot Tudor of TCC, has been shortlisted for Most Valuable Player at this year's Agile Awards. Having previously been shortlisted in 2011 and 2010 for the same award, we are really hoping that this year will be the one.
We are extremely proud of Dot's achievement and grateful for the recognition of all that she has done to promote Agile over the years. We would also like to thank anyone who nominated her!
The UK Agile Awards is a non-profit event. It recognises the greatest Agile achievements from the past year, but also serves the community by supporting charitable organisations. This year the event will help parents of children with Down Syndrome through Stepping Stones DS, as well as provide assistance for those struggling with bad housing or homelessness through Shelter.
Following a record number of nominations, three nominees have been shortlisted in each category, with the winners being announced at the Agile Awards Dinner on the 7 November at The Grand Connaught Rooms in Central London.
To view all shortlisted nominations for the awards, click here.