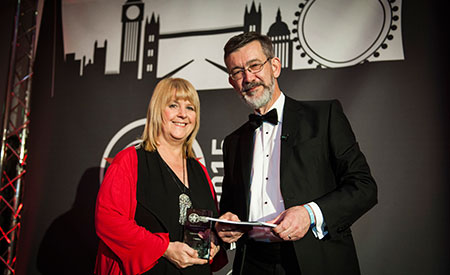 On the 12th November 2015, the Agile community gathered together at the sixth annual Agile Awards to celebrate success. With the Montcalm Hotel in London as a venue, Nick Higham as host and Ian Irving providing the comedy, an enjoyable and entertaining evening was guaranteed for all.
Director of TCC, Dot Tudor, was shortlisted in the category of Outstanding Contribution from a DSDM Team Member. Dot has been involved in the development and promotion of DSDM, amongst other Agile methods, for over 20 years. She co-authored DSDM's Agile Project Management Handbook and is lead-author of Agile Business Analysis, the first comprehensive guide to the role of the Agile Business Analyst.
Shortlisted alongside two other strong candidates it was a close race but, thanks to the support (and votes!) of the public, we're delighted to announce that Dot was awarded Outstanding Contribution from a DSDM Team Member.
Rob Shipley, of TCC, said "For as long as I've known her, Dot has been passionate about her role in the Agile community. This year has been especially busy, with her work creating the new Agile Business Analysis Handbook, so we're all incredibly pleased that she's been recognised at the Agile Awards.".
Dot is delighted to have received the award and she would like to thank everyone who supported her nomination and voted for her in the public vote, as well as congratulate all the other winners and nominees!
We hope to see you at the Agile Awards 2016!
Dot's Profile can be viewed on LinkedIn here:
View Dot Tudor's profile
Book an Agile Training Course
If you are interested in learning more about Agile, then take a look at our range of Agile training courses.
Find out more about our Award Winning Agile Consultancy
If you are thinking about implementing Agile within your organisation and would be interested in our award winning Agile coaching or other Agile transformation services, then please contact us to discuss your requirements.