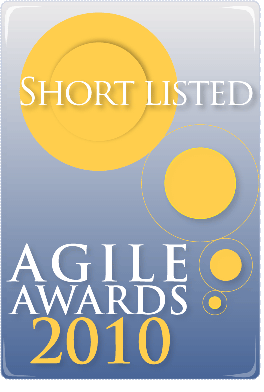 The award is nominated by Peer Agile Players and recognises individuals who are influential members of and contributors to the Agile Community. We're extremely proud of Dot at TCC on her nomination and for being recently shortlisted for this award. Our fingers are crossed for her!

TCC's 'DSDM Atern Student Workbook' has also been nominated for the Best Agile Publication Award. We'd like to thank anyone who nominated us for these awards. We are extremely grateful and it is a great honour to be recognised in this way.

The Awards will be presented at the UK Agile Awards 2010 Dinner, at the Inmarsat Centre on the evening of the 5th October.

All members of the UK Agile Community are invited to attend, and to celebrate the Awards.