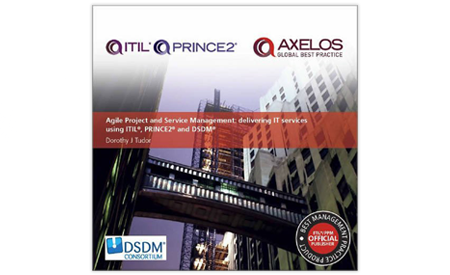 This month sees the launch of the second edition of Agile Project and Service Management: delivering IT services using ITIL®, PRINCE2® and DSDM®. Agile Project and Service Management shows how to integrate three of the top best practice approaches for delivering business change and managing IT services to integrate effectively to add value to organisations.
The second edition is based on the updated DSDM Agile Project Framework®, the PRINCE2 project management method and ITIL, the best practice approach for IT Service Management. This publication shows how to combine these three approaches effectively and get the best out of their guidance.
The author, TCC Director, Dorothy Tudor has worked on agile projects at large financial institutions, technology companies and public-sector organisations amongst others. It is from this experience and her in-depth knowledge of the approaches that led to her collaboration with The Stationery Office (TSO) – the Official Publisher of the ITIL and PPM portfolios for AXELOS – to bring the subject to print.
Key Features
The publication has been updated with the latest DSDM guidelines
Contains a valuable roadmap for using the PRINCE2, ITIL, and DSDM in a project
Real life case studies from companies who have integrated all, or some, of the frameworks
Practical guidance, as well as theoretical content
Checklists and lessons learned which can be transposed directly to the real environment
Describes the issues that arise from implementing each framework, how they fit together, and their specific benefits
Aligns with ITIL 2011, the latest guidance
The publication has been extensively reviewed by key experts in project management, ITSM, and agile fields
Uses a fictional company to examine, in detail, the practical considerations, benefits and difficulties in implementing the frameworks.
This title supersedes Agile Project and Service Management published July 2010, ISBN 9780113310975.
Where can I buy a copy?
If you are interested in getting a copy of the book, then it is available direct from the AXELOS Store and TSO Bookshop.
Alternatively, you can find it at many other bookstores including on Amazon.co.uk.
Looking to implement one or more of the approaches?
Please feel free to contact us and we can help you on your way to successful Agile Project and Service Management.