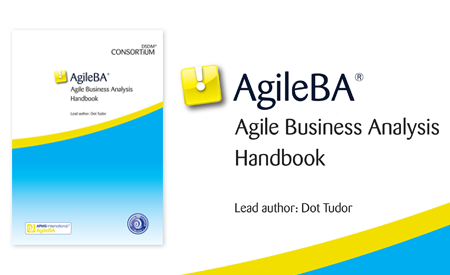 TCC is delighted to announce that the Agile Business Analysis (AgileBA) Handbook is now available to pre-order.
Dot Tudor, of TCC, is the lead author of the AgileBA Handbook and the lead examiner for global accreditation and certification body, APMG International. TCC pioneered and introduced the first Agile Business Analysis training course in 2008 and has been refining and improving it ever since. It is the guidance and practices for business analysts taught within this course that now underpins the official handbook published by the DSDM Consortium.
Agile Business Analysis (AgileBA) is the first comprehensive set of guidance, framework and practices for the business analyst working in an Agile project.
It also gives context to the Agile Business Analyst role beyond the individual project, in relation to organisational mission and strategy, and gives additional depth and guidance for business analysis in an Agile context.
The AgileBA Handbook is intended to give useful, practical and comprehensive advice to the Agile Business Analyst. The guidance is presented within the framework of DSDM. However, it is wider than this, with many generic and popular Agile techniques also included.
The complementary qualification scheme jointly accredited by APMG and DSDM will provide training and certification to equip the Agile BA with the tools needed to be effective in Agile, and to help the traditional business analyst to transition to an Agile way of working.
AgileBA sits alongside the Agile Project Management (AgilePM) certifications introduced in 2010. As a specialist in Agile and an APMG International and DSDM Accredited Training Organisation, TCC will lead the way in offering the official training and certification from launch, at the end of June 2015.
More Information
Pre-order your Agile Business Analysis (AgileBA) Handbook at dsdm.org.
Be one of the first to get the new AgileBA certification from APMG International!
Register your interest in attending the first Agile Business Analysis (AgileBA) training course, delivered by lead author - Dot Tudor, below: